Congratulations to OSRAM South Africa

We congratulate Sharyn McCormick and the Marketing team at OSRAM South Africa on winning the silver prize in the OSRAM International Promotional Pool 2007 for the retail launch of the DOT-it™ product in June 2006.
Gold prize went to OSRAM Turkey for their Student Illumination Movement campaign, with bronze going to OSRAM USA for the Global Care Launch: Earth Day.
OPS assisted OSRAM in creating point of sale items for in-store promotions, as well as additional items ranging from postcards and flyers to magazine adverts and truck artwork. One Part Scissors is proud to have been involved!
DOT-it™ A1 Poster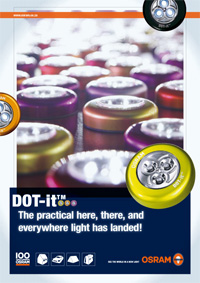 DOT-it™ press kit front cover - this is an information pack which was distributed to the members of the press.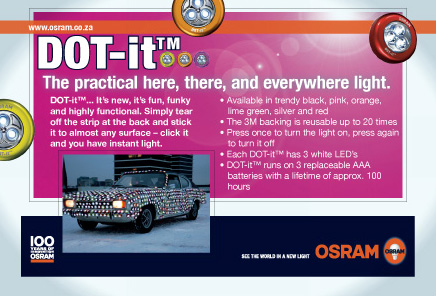 DOT-it™ postcard (back)